Contest Description
First ever fan fiction novel contest on Inkitt where submissions are based on your novels!

Pick your favorite Inkitt novel and spin it out of control!
Inspired by a true Inkitt veteran, Alex Rushmer.
As always, there is no entry fee. All you need to do is submit a story with a minimum word count of 1,500 words of any genre, based on a novel on Inkitt. Don't think Harry Potter or Twilight, we want you to metamorphose your most beloved Inkitt story into your own.
Please indicate the title of the Inkitt novel (and the name of the author) your submission is based on by adding a line at the beginning of your manuscript.
Submission Period: July 10th - Sept 10th
Voting Period: July 10th - Sept 17th
Submit as soon as you can, to have enough time for votes to come in!
Prepare your most fascinating fan fiction stories based on Inkitt originals!
(Note: Submissions can only be posted from a computer)
The top 10% based on "Most Popular" and "Most Voted" get the chance to be picked by the Inkitt staff for 1st, 2nd and 3rd place
We accept fan fiction stories that are based on an Inkitt original story
Minimum word count is 1500 words
In order to submit a story, authors must make it publicly available on the Inkitt platform by pasting the text into the story editor
Authors retain all rights to works submitted to the contest
Read more about Inkitt's publishing approach!
Submissions close on September 10th, but voting will continue for an additional week
There is no age requirement for participation but all stories must be rated appropriately by their authors
Before submitting a story be sure to check our guidelines page to ensure that you comply with all of our publication rules.
Prizes for Winners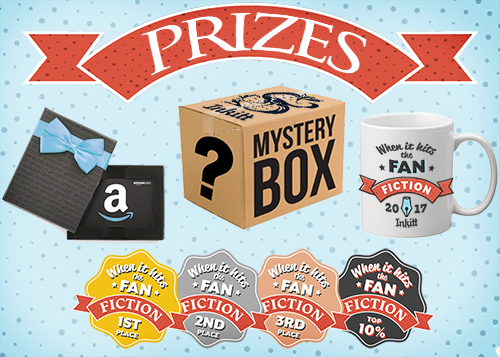 1st Place
The winning novel will receive a $25 Amazon gift card, an Inkitt mystery box and a custom mug!
Golden badge on the author's profile
2nd Place
Second place novel will receive a $15 Amazon gift card, a custom mug and a surprise gift!
Silver badge on the author's profile
3rd Place
Third place novel will receive a $5 Amazon gift card, a custom mug and a surprise gift!
Bronze badge on the author's profile/p>
Top 10%
All Top 10% participants receive a "Top 10%" badge to their profile