Contest Description
"Echo of another world." In honor of the stupendous Terry Pratchett and his classic Discworld novels, we're asking writers to take us to different worlds with their stories. Pratchett inspired billions of genre writers to expand their minds and their imaginations, and with this contest we'll be carrying on this tradition.

Fiction in the sci-fi/fantasy genre, up to 15,000 words. Novel excerpts are encourage; fanfiction is not eligible to win. Entry is free! Authors will collect community votes, and the first, second, and third winners will be chosen by the Inkitt staff from the top 10% of entries. (Note: Submissions can only be posted from a computer)
Authors will retain all rights to work submitted to the contest.
Multiple entries are allowed, but each individual participant may win only one prize.
Prizes can only be shipped to the United States, Canada, countries in the EU, and Australia.
There is no age requirement for participation.
Inkitt staff are not eligible to receive prizes, or be chosen as winners.
Prizes for Winners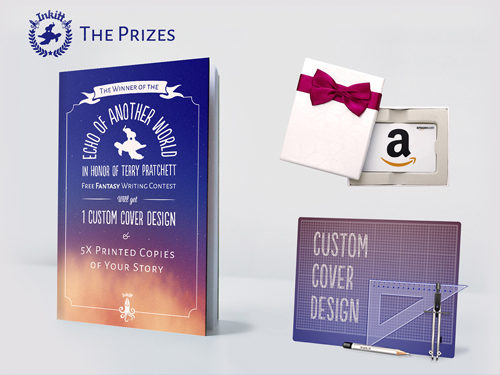 1st Place
5 printed-and-bound copies of story with cover created by Inkitt's designer; $40 Amazon gift card
2nd Place
$30 Amazon gift card
3rd Place
$20 Amazon gift card
Submit Story